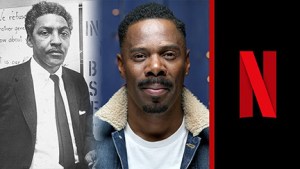 By Ron Wynn
NASHVILLE, TN — There is lots of anticipation and interest in the upcoming Netflix film "Rustin." A key figure in the Civil Rights Movement, Bayard Rustin was often kept in the background simply due to his being Gay. But his importance as a strategist and advisor was paramount, and in recent years there's been the realization that his role had not been properly presented.
That should change judging by the buzz being stirred by Colman Domingo. He has the featured role in "Rustin."' Though it won't be released until next year, there's still plenty of discussion about "Rustin." It is being directed by George C. Wolfe ("Ma Rainey's Black Bottom").. The all-star cast features Chris Rock, Gynn Turman, Audra McDonald, Aml Ameen, Gus Halper CCH Pounder and Adrienne Warren alongside Domingo.
Others in the film include Michael Potts, Carra Patterson, Bill Irwin, DaVine Joy Randolph, Jeffrey Wright, Lilli Kay, Jordan-Amanda Hall, Jakeem Dante Powell, Ayana Workman, Grantham Coleman, Jamilah Nadege Rosemond, Jules Latimer, Maxwell Whittington-Cooper, Frank Harts and Kevin Mambo.
Some of the roles the cast will be playing have already been announced apart from Domingo playing Rustin; Pounder will play civil rights leader, politician, writer and teacher Dr. Anna Hedgeman, while Irvin will play clergy member and politician A.J. Muste. Potts will play labor organizer and activist Cleveland Robinson, and Warren will play Claudia Taylor. Halper will play Tom and Ramey will play Elias. Patterson will portray Coretta Scott King with Ameen portraying her husband and civil rights leader Martin Luther King Jr. Audra McDonald will play civil rights activist Ella Baker.
The film is executive produced by Higher Ground founders (and former U.S. President and First Lady) Barack and Michelle Obama, along with Mark. R Wright and Alex G. Scott. Bruce Cohen and Higher Ground's Tonia Davis are also producing.
"Rustin" focuses on the title character as the architect of 1963's March On Washington. The film will also focus on Rustin's position as an openly Gay Black man within the civil rights movement and as King's confidante. In 2013, former President Barack Obama posthumously awarded Rustin the Presidential Medal of Freedom. According to the official synopsis:
"Bayard Rustin, the brilliant strategist behind 1963's momentous March On Washington and close advisor to Martin Luther King, Jr., dedicated his life to the tireless quest for racial equality, human rights, and worldwide democracy. But as an openly gay Black man, he was all but erased from the civil rights movement he helped build. Directed by George C. Wolfe and starring Tony Award winner and Emmy Award nominee Colman Domingo, Rustin illuminates the life of this unsung hero, a man whose influential work as an activist changed the course of history."
The post Anticipation is High for Upcoming Film 'Rustin' appeared first on The thetennesseedigest.com.