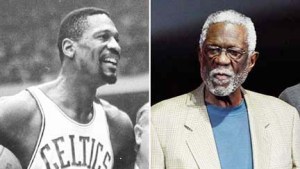 Although he was the greatest winner in American team sports history, Bill Russell's impact and importance extended far beyond the basketball court. Russell, who died over the weekend at 88, was a pioneer and outspoken force for social justice in an era when athletes were not just encouraged to be silent, but expected to keep their mouths shut about everything except who won and what they did in a particular game.
Russell spoke out for Civil Rights, marched with Dr. King and openly defended Muhammad Ali when many others shied away from comment. As a player, he led the Celtics to 11 titles in 13 seasons, at one point eight in a row. The final two came as he was also a player-coach, the first Black one in NBA history. He'd later become a commentator for ABC television. He was also the author of two autobiographies and multiple articles.
Bill Russell played in an era when Wilt Chamberlain was setting countless offensive records. The Russell/Chamberlain duel remains unmatched in NBA history, topping even the Bird/Magic rivalry. Russell also revolutionized basketball by showing that the game could be controlled via defense and rebounding. Because the NBA didn't keep stats on blocked shots during his career, no one will ever know how many he compiled, but Russell turned shot blocking into an art form. He'd not only block the shot, he'd keep it in play and launch the devastating Celtics fast break.
His peers recognized his greatness. Even in the year that Chamberlain averaged 50 points a game, Russell was voted the league's Most Valuable Player. His 21, 620 rebounds ranked second only to Chamberlain's 23, 924. Russell won five MVP awards, was a 12-time NBA All-Star, and in 1980 was voted by NBA writers as the greatest player in NBA history. Michael Jordan is widely considered today to hold that honor, but no one who saw Bill Russell would ever denigrate his ability or importance. He also won two NCAA titles and an Olympic gold medal.
Russell's No. 6 jersey was retired by the Celtics in 1972. He earned spots on the NBA's 25th anniversary all-time team in 1970, 35th anniversary team in 1980 and 75th anniversary team. In 1996, he was hailed as one of the NBA's 50 greatest players. In 2009, the MVP trophy of the NBA Finals was named in his honor. (Russell never won the honor, because it was awarded for the first time in 1969.) He presented his namesake trophy for many years, the last in 2019 to Kawhi Leonard;
Both NBA commissioner Adam Sliver and President Joe Biden paid homage to Russell.
"Bill Russell was the greatest champion in all of team sports," Silver said. "Bill stood for something much bigger than sports: the values of equality, respect and inclusion that he stamped into the DNA of our league." President Biden praised Russell for his lifelong work in Civil Rights as well as in sports, and called him "a towering champion for freedom, equality, and justice." "Bill Russell is one of the greatest athletes in our history – an all-time champion of champions, and a good man and great American who did everything he could to deliver the promise of America for all Americans," Biden said,
President Obama awarded Russell the medal of Freedom alongside Congressman John Lewis in 2011. "Today we lost a giant," Obama said. "As tall as Bill Russell stood, his legacy rises far higher – both as a player and as a person. Perhaps more than anyone else, Bill knew what it took to win and what it took to lead." It's no surprise that Russell was Jackie Robinson's favorite player, and he later served as a pallbearer at Robinson's funeral.
But it was his family who leaves the last and most memorable tribute to the great Bill Russell. "We hope each of us can find a new way to act or speak up with Bill's uncompromising, dignified and always constructive commitment to principle," the family said. "That would be one last, and lasting, win for our beloved #6."
The post Bill Russell's Impact Went Far Beyond Basketball appeared first on The thetennesseedigest.com.