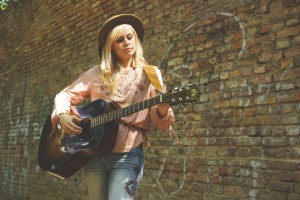 By Mac Arthur Howard III
NASHVILLE, TN— A sensation of musical fusion just rolled through the state of Tennessee. On August 6, Swedish singer and songwriter Sofia Talvik played the venue at Crosstown Arts in Memphis while on her summer tour.
Talvik specializes in folk and americana music, inspired by the sounds of acoustic guitars and vocals, and uses her Swedish roots to bring a unique sound to her audience.
"While touring I've found that people find my take on music interesting, especially in small towns," Talvik said. "They hear there's a Swedish woman singing folk music down the street, they get curious, and soon I have a full venue."
Talvik started her music career part-time in 2005 but wound up focusing on music full-time in 2012, forming a two-person team with her husband Jason as her sound designer and technician. The couple has since begun touring back and forth between Europe and North America in their R.V.- their "home away from home".
"The two of us have done everything together and supported each other all along the way," Talvik said. "We've started our own record label, have been touring together, and he's the one who makes sure I sound good while onstage."
Despite being unable to tour for the past two years due to the recent pandemic, Talvik has kept her time in North America near to her heart. Talvik has even been inspired by the natural beauty and people of the countries she's visited and has written multiple songs with them in her heart.
"Everything from the music here, the scenery, and the people have gone into my music and my sound," said Talvik. "My 2015 album, Big Sky Country, especially the title track was inspired by all the beautiful places I got to see here in the U.S. and the amazing people I got to meet along the way."
Sofia Talvik has been touring in the U.S. for ten years and is currently here on her summer tour. As mentioned above, she played in Memphis on August 6 but her next stops will be in Fort Atkinson, WI, Port Cargill, MN, and Ontonagon, MI on the 24, 26, and 27 of August.
To learn more about Talvik and her music or to purchase her most recent album Paws of a Bear, visit sofiatalvik.com.
The post Globetrotting Musician Adds a European Twist to a Beloved Genre  appeared first on The thetennesseedigest.com.