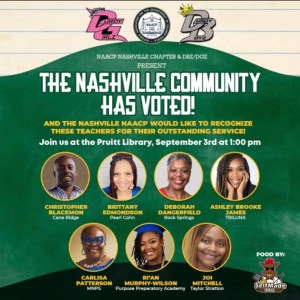 Nashville, Tenn. (TN Tribune)–The Nashville NAACP will recognize seven local teachers for outstanding service during an event Sept. 3, 2022. The event will be held at 1 p.m. at the Pruitt Library.
Teachers who will be recognized are: Christopher Blackmon (Cane Ridge), Brittany Edmonson (Pearl Cohn), Deborah Dangerfield (Rock Springs), Ashley Brooke James (Triluna), Carlisa Patterson (MNPS), Ri'an Murphy Wilson (Purpose Preparatory Academy), and Joi Mitchell (Taylor Stratton).
The post Nashville NAACP Will Recognize Teachers for Outstanding Service Sept. 3 appeared first on The thetennesseedigest.com.