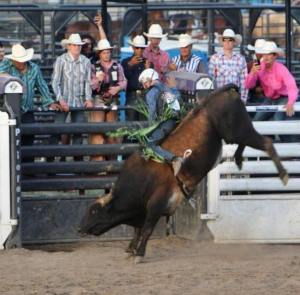 Nashville Stampede to play Carolina Cowboys and Missouri Thunder in team's first regular season event for the new PBR Team Series
CHEYENNE, Wy. – This week the inaugural season for Nashville's first-ever professional bull riding team, the Nashville Stampede, will get underway in Cheyenne, Wyoming, on July 25-26. The two-day event, held in tandem with the iconic Cheyenne Frontier Days Rodeo, will feature the team's first two games, as well as a Bonus Round to assist in determining the event winner. The competition will begin at 7:45 p.m. MT on Monday, July 25, and Tuesday, July 26.
The Stampede are one of eight founding teams in the new PBR Team Series – playing five-on-five bull riding games to crown a team champion Nov. 4-6 in Las Vegas. During the regular season, all teams will compete in 10 events, playing in a combined 28 games. The Stampede will compete in Nashville at Bridgestone Arena on August 19-21.
Ahead of the competition this week, below is a breakdown of the event format, daily matchups, starting rosters and more.
FORMAT: During the two-day, regular season event in Cheyenne, each of the eight founding teams for the PBR Team Series will compete in a head-to-head, five-on-five bull riding game each day of competition. For the four games on Monday and on Tuesday, each team's head coach will select five riders to match against the five bulls assigned to their team. The team with the highest aggregate score will be the game winner, and ties will be allowed. The same process will be repeated on the second night of competition, with each team facing a new opponent.
A bonus round will follow Tuesday's second round of games, with each team selecting one rider to attempt one final bull. This rider can be an alternate (bench) rider who has yet to compete in the event. The Bonus Round is independent of the results of that weekend's previous games and only applies to the overall event standings in the case of a tie. Teams receive bonus points based on their rider's placement in the Bonus Round: 1st (8 points), 2nd (7 points), 3rd (6 points), 4th (5 points), 5th (4 points), 6th (3 points), 7th (2 points), 8th (1 point). Teams will be placed via ride score and then buckoff time.
The overall event-winning team will be the team with the best overall win-loss record. In the event of a tie in the event standings, a team's bonus points will be the first tiebreaker. If there is still a tie, the second tiebreaker will be the team's total aggregate score from its two games. The next and final tiebreaker will be combined buckoff time from a team's games.
LET'S RECAP THE PRESEASON: Prior to the start of the regular season, two preseason events were held for the PBR Team Series. In the overall preseason standings, the Nashville Stampede finished fifth, going 2-2 in game play, amassing 250.25 aggregate and 9 Bonus Round points. During the first event in Bismarck, North Dakota, following a shutout, 177-0 loss to the Kansas City Outlaws, the Stampede rebounded to defeat the Austin Gamblers 80-0. As the PBR Team Series preseason continued in Tryon, North Carolina, the Stampede again went 1-1. After losing to the Arizona Ridge Riders 17-86, the Stampede upset the home state favorite Carolina Cowboys 84.25-0.
OPPONENT – JULY 25: During the opening day of games for the PBR Team Series event in Cheyenne, Wyoming on July 25, the Nashville Stampede will play the Carolina Cowboys.
OPPONENT – JULY 26: Following their game against the Carolina Cowboys on Monday, the Nashville Stampede will face off against the Missouri Thunder on Tuesday, July 26. Teams can change their roster between games. The rosters for the Nashville Stampede vs. Missouri Thunder will be made available prior to the start of the game.
NOTE: For a complete list of all the game matchups scheduled for the Cheyenne regular-season event, click here.
NASHVILLE STAMPEDE'S STARTING LINEUP & MATCHUPS – JULY 25:
(Note: Each rider and bull's name are hyperlinked to their PBR.com bio page with additional competition stats and history.)
Head Coach Justin McBride: Two-time PBR World Champion Justin McBride won $5.1 million during his PBR career, the fifth-most in PBR history. McBride, who was inducted into the PBR Ring of Honor in 2008, holds the PBR record for event wins in a season with eight (2007) and all-time event wins (32). The native of Belton, Texas, has worked as a color commentator for the PBR on CBS Sports broadcasts for more than 10 years, providing clear insights and analysis drawing on his experience as one of the greatest bull riders of all time. No stranger to the coaching role, McBride led Team USA to victory as its coach at the PBR Global Cup in 2017 and 2020.
Joao Henrique Lucas (Bastos, Brazil) vs. Blunt Force Trauma (Hadley Cattle Co.)
Kaique Pacheco (Itatiba, Brazil) vs. High Country Hitman (High Country Solutions/JR Phillips)
Fernando Henrique Novais (Pereira Barreto, Brazil) vs. Experiment 626 (Classic Jack Cattle/Viducic Bucking Bulls)
Thiago Salgado (Navirai, Brazil) vs. Cowboy Cool (Pate/D&H Cattle)
Ryan Dirteater (Hulbert, Oklahoma) vs. Twisted Feather (Blake Sharp/Michael Floyd/Kobert)
PBR Insider Justin Felisko's Rider to Watch: Thiago Salgado missed all of the 2022 Unleash The Beast recovering from reconstructive right shoulder surgery, but the 20-year-old is fully healthy and went 7-for-12 at six PBR Challenger Series events. It is easy to get excited about 2018 World Champion Kaique Pacheco and the return of 2016 PBR World Finals event winner Ryan Dirteater from a year-and-a-half retirement, but the Stampede will likely be an impact team if Salgado rises to the occasion. For more from Felisko, click here.
CAROLINA COWBOYS' STARTING LINEUP & MATCHUPS – JULY 25:
(Note: Each rider and bull's name are hyperlinked to their PBR.com bio page with additional competition stats and history.)
Head Coach Jerome Davis: Both a PRCA World Champion bull rider and member of the prestigious PBR Ring of Honor, Carolina Cowboys' Head Coach Jerome Davis was paralyzed from the chest down in 1998 after being thrown from a bull. Despite his riding career coming to an end, Davis remained in the industry growing Davis Rodeo Ranch, based in Archdale, into one of the PBR's top stock companies alongside his wife Tiffany, who joined the team's front office as Assistant General Manager.
Daylon Swearingen (Piffard, New York) vs. Lil 2 Train (Jane Clark/Gene Owen)*
Boudreaux Campbell (Crockett, Texas) vs. The Undertaker (Cornwell Bucking Bulls/Riley Bucking Bulls/PCP Bucking Bulls)*
Mason Taylor (Maypearl, Texas) vs. Slim Shady (Hadley Cattle Co.)
Wingson Henrique da Silva (Navirai, Brazil) vs. Juju (Tommy Julian/D&H Cattle)
Ramon de Lima (Rio Branco, Brazil) vs. Falcon Eddie (Lari Crane/Gene Owen)
* Denotes a rematch.
PBR Insider Justin Felisko's Rider to Watch: You can't disrespect the reigning PBR World Champion Daylon Swearingen, who earned his gold buckle with a sensational 6-for-8 performance at the PBR World Finals, defeating two previous World Champions in Jose Vitor Leme and Kaique Pacheco. Swearingen embraced an underdog role heading into the World Finals and is poised to be a breakout start. Now, he will be looked upon to lead the Cowboys until 2016 World Champion Cooper Davis is cleared for a return to competition from two left shoulder surgeries. As of July 21, Swearingen is a sizzling 17-for-27 (62.97%) at all levels of competition since winning the world title. For more from Felisko, click here.
Rematches to Watch: During the Carolina Cowboys' game against the Nashville Stampede, two riders will face rematches.
Boudreaux Campbell will be locked in a rubber match with The Undertaker. Facing the Ohio-raised animal athlete twice in 2021, after Campbell rode the bull for 87.5 points during the championship round of the Unleash The Beast event in Louisville, The Undertaker got the better of Campbell when they met later that season in Sioux Falls, South Dakota, sending the cowboy to the ground in 2.22 seconds.
Daylon Swearingen will take on Lil 2 Train for the fifth time in his career. The duo's rivalry began in 2020 when they matched up three times. The reigning PBR World Champion rode Lil 2 Train in their first meeting, making the 8 for 89 points during the championship round in Duluth, Georgia. In their four meetings since, however, Lil 2 Train has emerged the more dominant athlete. In 2020, the Oklahoma bull bested Swearingen twice at his home state events in Guthrie, first in 2.92 seconds and then in 2.89 seconds. The pair of athletes most recently squared off in Round 1 of the 2022 PBR World Finals. Lil 2 Train bucked off Swearingen in 5.22 seconds.
HOW TO WATCH: CBS Sports Network will televise all the action from the PBR Team Series season debut in Cheyenne, Wyoming, LIVE, beginning at 10:00 p.m. ET on both Monday, July 25 and Tuesday, July 26. CBS Sports will also air a one-hour highlight show from the season-launch PBR Team Series event on Sunday, July 31 at 1:00 p.m. ET. PBR RidePass on PlutoTV will offer replays of all the PBR Team Series action from Cheyenne, Wyoming. Check https://pluto.tv/en/live-tv/pbr-ridepass for the latest programming schedule.
ENGAGE WITH THE STAMPEDE: For more information about Nashville Stampede, visit pbr.com/teams/stampede/, Nashville Stampede on Facebook, @NashvilleStampede on Instagram, or @Nash_Stampede on Twitter.
ASSETS & INTERVIEWS: Following each game, photo and video assets of the Nashville Stampede will be made available. Remote interviews with team leadership, including Head Coach Justin McBride, and competing riders will also be made available upon request.
ABOUT THE NASHVILLE STAMPEDE: Nashville Stampede are based at Bridgestone Arena in Nashville, Tennessee, where the team will hold its inaugural Stampede Days homestand on August 19-21, 2022, the fourth event of the 10-event PBR Team Series regular season. The Stampede are coached by two-time PBR World Champion Justin McBride. Under the leadership of General Manager Tina Battock, the Stampede are owned by Morris Communications Company, LLC (MCC), which is part of a privately held company with diversified holdings in media, real estate, property development and agribusiness. MCC is based in Augusta, Georgia. MCC's current media holdings include Morris Media Network (MMN) which reaches millions of consumers with diversified content brands in print, digital, products and live events including Western Horseman, Barrel Horse News, Quarter Horse News, Road to the Horse, EquiStat and the National Barrel Horse Association. A portfolio of lifestyle publications and digital assets serve outdoor/sporting/travel enthusiasts with Alaska Magazine, Milepost, Gray's Sporting Journal, Charlotte Magazine, Orlando Magazine, Savannah Magazine, Where Visitor publications and more, including the Nashville Stampede, one of eight founding teams in the new PBR Team Series.
ABOUT THE PBR (PROFESSIONAL BULL RIDERS) TEAM SERIES: The PBR Team Series is an elite new league that will feature the world's top bull riders competing on teams in five-on-five bull riding games during an 11-event season beginning in July and culminating in a team championship at T-Mobile Arena in Las Vegas November 4-6. During the 2022 season, each of the eight teams representing teams in Austin, TX; Fort Worth, TX; Glendale, AZ; Kansas City, MO; Nashville, TN; Oklahoma City, OK; Ridgedale, MO; and Winston-Salem, NC will host a three-day homestand. There will also be neutral site games in Cheyenne, WY and Anaheim, CA. To determine team rosters, the league held a rider draft on May 23 prior to start of the 2022 season among any bull riders who have declared for the draft during a league eligibility window. The PBR Team Series builds on the existing structure of professional bull riding with the same basic rules for judging and scoring qualified 8-second bull rides. Events will be staged in a tournament-style format with all teams competing in head-to-head matchups against a different opponent each day. Each game will feature five riders per team squaring off against another team. Full team rosters will be comprised of seven riders on the core roster and three practice squad members. The team with the highest aggregate score of qualified rides among its riders will be declared the winner of each game. The event winner will be the team with the most game wins across an event, with a special bonus round designed as a tie-breaker to determine final event standings. All PBR Team Series events will be carried on either the CBS Television Network, streaming live on Paramount+, CBS Sports Network, or RidePass on PlutoTV.
The post Nashville's First-Ever Professional Bull Riding Team Begins Regular-Season Competition For PBR Team Series July 25-26 In Cheyenne, Wyoming  appeared first on The thetennesseedigest.com.