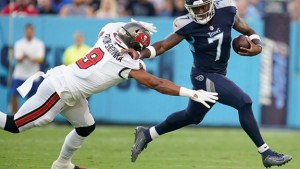 NASHVILLE, TN — As the Titans prepare for their third and final preseason game, one big question remains unanswered. The issue of who will be the backup QB to Ryan Tannehill has yet to be decided. Neither veteran Logan Woodside or rookie Malik Willis has established themselves, but Willis has started both games. The results of Saturday's second outing were far more positive, as the Titans posted a 13-3 victory. But there are still many unanswered questions regarding the number two QB spot.
Willis had his first touchdown pass of the preseason and also had a 24-yard scramble. The excitement and potential that he brings is evident, but so is the lack of experience and polish. But he also suffered two sacks, and generally wasn't accurate.
Like the preseason opener, rookie quarterback Malik Willis had highs and lows in his Nissan Stadium debut. He completed only seven of 17 passes for 70 yards, but added 42 yards on five scrambles. Woodside during his time proved no more effective.
He had another interception, his third so far, but did complete seven of 11 passes for 56 yards. Neither QB was able to do much on third down, and the lone touchdown was set up by the defense.
The Titans opted not to play most of their offensive starters. Among the list of starters sitting out were RB Derrick Henry, QB Ryan Tannehill, C Ben Jones, WR Robert Woods, DL Jeffery Simmons, LB Kevin Byard and LB David Long Jr.
The night's defensive star was linebacker Rashad Weaver. He had a first quarter sack, and in the second quarter his pressure on QB Kyle Trask led to an interception. Weaver had two QB hits, a tackle foa a loss, a pass defensed and a fumble recovery along with his sack for the evening. The special teams standout was rookie receiver Kyle Phillips, who had a 35-yard punt return. Unfortunately the rookie the Titans have hoped would get off to a good start, wide receiver Treylon Burks. has yet to be part of the offense. His total after two games is one catch for four yards Saturday.
The Titans conclude the preseason Saturday at home against the Arizona Cardinals.
The post Titans Look to Preseason Finale appeared first on The thetennesseedigest.com.