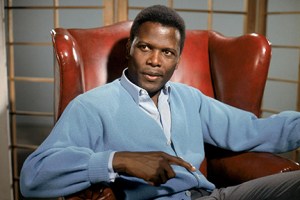 By Ron Wynn
NASHVILLE, TN — One of the greatest actors in American history, as well as a trailblazer, will be the subject of a forthcoming documentary. The first trailer has been released for "Sidney," which will be released on Apple TV+. The trailer is now available online at multiple locations including the Shadow and Act website.
Poitier who passed in January at 94, was the first Black actor to win an Oscar as Best Actor in 1964. Poitier also won two Golden Globes, a BAFTA (British academy of Film and Television Arts) and a Grammy. The documentary is produced by Oprah Winfrey and directed by Reginald Hudlin. It pays tribute to the renowned actor and documents his history as a pivotal figure in Hollywood and the Civil Rights Movement as well as a filmmaker and activist.
The documentary is also produced by Derik Murray cooperation with the Poitier family and includes interviews with a number of celebrities, including Denzel Washington, Halle Berry, Robert Redford, Lenny Kravitz, Barbra Streisand, Spike Lee, and many more.
The film is written by Jesse James Miller.
"Sidney" is an Apple Original Film produced by Harpo Productions and Network Entertainment. The documentary is produced by Winfrey on behalf of Harpo Productions and Murray on behalf of Network Entertainment. Terry Wood, Catherine Cyr, Brian Gersh, Paul Gertz, Reginald Hudlin, Joanna Shimkus Poitier, Anika Poitier and Barry Krost also executive produce.
No release date has yet been announced.
The post Trailer for Sidney Poitier Documentary Released appeared first on The thetennesseedigest.com.