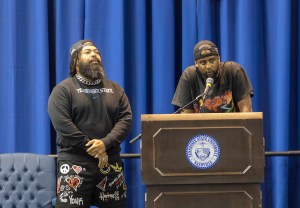 By Emmanuel Freeman
NASHVILLE, TN (TSU News Service) — Clint Gray III and Emmanuel "E.J." Reed, TSU alums and two of the three owners of a major national restaurant chain, recently inspired incoming freshmen with their message of hope and success during a ceremony on campus. The co-owners of Slim & Husky's, the famous hip-hop pizza franchise, spoke about how a dream they had in their college dorm kicked off with a $3,000 startup money and grew into building a multi-million-dollar company with branches across the country.
"Slim & Huskey's was born right here at TSU, in these dorms," Gray reminded the students. "As freshmen and college students, we had the same dream as most of you to make a difference, but we had a plan and we worked on it." Gray and Reed named vision, strategy, and execution as the key to their success.
"Your first step is to have a vision," Gray added. "Just like most of you, we came to TSU as three young, motivated, and ambitious knuckleheads. We had a dream sitting in the same seats you are sitting in, faced with the same challenges that you are going to face, like getting up early for class, going to study hall, and for some of us, going to football practice, but we had one vision."
That message of having a dream with a vision, strategy and execution plan struck an immediate chord with Talisa Elliott, who had long heard about Slim & Husky's, but said she was very moved to be in the presence of the actual owners and to hear their story of "how they made it through TSU to get to where they are.
"I love supporting Black-owned businesses but hearing their stories of how they turned $3,000 into a $7M deal in seven years, is amazing," said Elliott, a mass communications major from Memphis, Tennessee. "Hearing these guys makes me even more excited about coming to TSU. Their message is extremely encouraging, considering my own dreams and motivations."
Reginald Ponder, of Atlanta, a pre-med biology major, also said the presentation added to his excitement about being at TSU and what he can become. "Everything has been going great. I have been networking and speaking to people. Orientation was fine," said Ponder, who is interested in vying for a student leadership position. "I am looking forward to being in student government. Clubs and organizations do a lot of work on campus. I want to be part of that."
Gray, Reed, and Derrick More graduated from TSU in 2007. Two years later, the trio regrouped and revisited their college dream of owning a business. With $3,000 between them, they started a three-man moving business with a rented truck. Within seven years, they had built a multi-million dollar moving company that set the stage for opening the first location of Slim & Husky's Local Pizza Beeria, at 911 Buchanan St., in 2017. Today, the company has 10 locations across the country, with a plan to open 50 more locations in the next five years.
"Our vision would be nothing if we hadn't taken the time to plan out our moves," Reed said. "So, whatever it is that you guys want to do, it starts with a vision, and then you strategize how you get from point A to point Z. But it doesn't stop there. You must execute your plan, or it will all mean nothing."
Tasha Andrews-Carson, executive director of new student programs, said the gathering, part of freshman welcome week, was intended to get the students "acclimated and familiarize" with the university.
"Today was an opportunity to talk with them about their post-baccalaureate plans and how to find purpose." Andrews-Carson said. "So, it was really important to bring alums that they could respect and connect with and talk to them about what you can be when you leave Tennessee State University."
Classes are due to start on Wednesday, Aug, 24. For more information on admission at TSU, visit https://www.tnstate.edu/admissions/
The post TSU Alums and National Food Chain Owners Inspire Incoming Freshman With story of Hope, Success  appeared first on The thetennesseedigest.com.