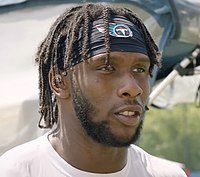 By Mike Patton
Familiarity does make things easier. For Titans Nick Westbrook-Ikhine and Racey McMath, the return to a Todd Downing offense with which they are very familiar is a positive. They are also two of the more experienced pieces in this offense, as Westbrook-Ikhine is entering his third year with the Titans and McMath entering his second year with the team. But along with that experience, there is growth that is evident from both young players.
When McMath was drafted in the sixth round in the 2021 NFL Draft out of Louisiana State University, he wasn't necessarily a guy people thought would be added into the wide receiver rotation. He factored in with the team, but he was more of a special teams player than a rotational receiver. But as shown by the opportunity, he paid off for the Titans in the first preseason game (a 48-yard catch on a deep pass from rookie quarterback Malik Willis). McMath is showing that he can do some things and help bolster this Titans receiving corps. One key ingredient in that is him knowing exactly what to do.
"It has helped me a lot to be back in the same offense. I am more instinctive. I know what to expect. I don't have to really think about what to do. I can just react. I can just play faster and just be me."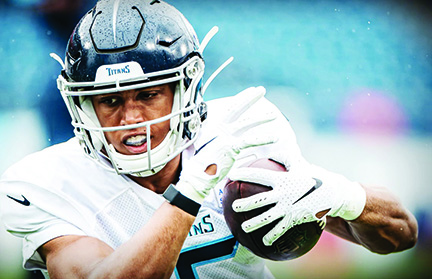 Nick Westbrook
Unlike McMath, Westbrook-Ikhine was a factor in the receiving corps last season. In fact, with AJ Brown being traded and Julio Jones being released, Westbrook-Ikhine was the leading top receiver this year. He is very familiar with the offense as he enters Year 3 with the Titans, but his confidence is even better now than last season.
"I feel like from the first year to last year to this year, the confidence is a lot higher. I said this before, the confidence in knowing what to do and knowing the playbook really well allows me to play a lot faster."
Both McMath and Westbrook-Ikhine are part of a wide receiver room that saw a great amount of turnover this offseason and there are opportunities for them to be a part of what could be the most talented wide receiver corps in the division. With the addition of rookies Treylon Burks and Kyle Phillips along with veteran Robert Woods, the depth at this position could definitely be better especially if McMath and Westbrook-Ikhine continue to impress each and every day.
So far, things are looking good for the two young wide receivers to add to a group that some have questioned. Time will tell, but this group with McMath and Westbrook-Ikhine stepping up more, could definitely give the Titans more than they were able to get consistently last season from the position.
The post Young Titan Offensive Players Can Make a Difference This Year appeared first on The thetennesseedigest.com.